The Book of Will nominated for three Offie Awards
News
11 May 2023
News Story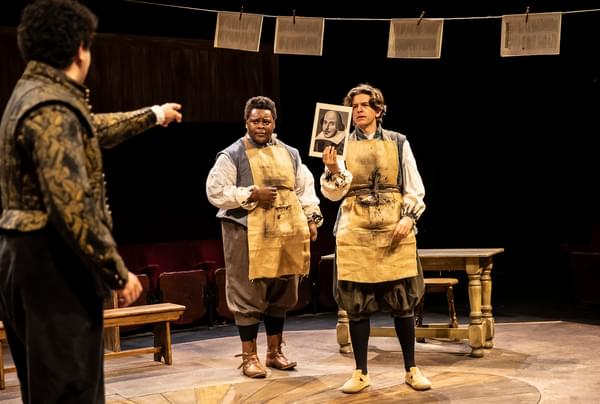 We are delighted to announce that our brand-new co-production of Lauren Gunderson's award-winning comedy, The Book of Will has been nominated for three Offies Awards (Off West End Theatre Awards).
Currently playing at Queen's Theatre in Hornchurch before coming to the Octagon from Wed 17 May - Sat 3 June, the show has been nominated for: Performance Ensemble, Choreography/Movement - Jonnie Riordan, Director (Plays) - Lotte Wakeham.
The European premiere which marks the 400th anniversary of Shakespeare's First Folio opened to great critical acclaim.

Generous-hearted comedy

- The Guardian
Poignant testament to friendship and collaboration

- The Stage
This hilarious love letter to theatre is a co-production from Queen's Theatre Hornchurch, Octagon Theatre Bolton and Shakespeare North Playhouse. Cast includes Jessica Ellis, Helen Pearson, Zach Lee, Tomi Ogbaro, Carrie Quinlan, Russell Richardson, Callum Sim, Tarek Slater, Bill Ward and Andrew Whitehead.
Directed by the our Artistic Director, Lotte Wakeham, The Book of Will tells the hilarious and moving story of the breath-taking race against time to gather all of Shakespeare's works and save them for the ages. The creative team includes: Carla Goodman (designer); Simeon Miller (lighting designer); Andy Graham (sound designer); Jonnie Riordan (movement director); Olivia Barr (casting director); Natalie Grady (accent coach); Ryan McVeigh (assistant director); and Ngozi Ugochukwu (observer director).
This wonderfully witty, funny and fast-paced play tells the true story of The King's Men as they band together for a near-impossible plan – to collect all of Shakespeare's plays and compile the First Folio. No easy feat, and what follows is a bonkers race against time through 1620s London.
The Book of Will comes to the Octagon from Wed 17 May - Sat 3 June.
Book tickets - from £15