Our 2022/23 in numbers
News
4 Oct 2023
News Story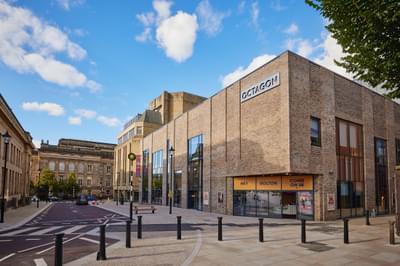 Following the opening of our new season last month, we are looking back at our sensational 2022/2023 seasons and the impressive 12 months at the Octagon.
The year in numbers reflect from September 2022 – August 2023, which saw us celebrate record-breaking performances; thousands of people attend our participation groups and take part in free activities and events; and reach even wider audiences by taking our co-productions on tour across the country.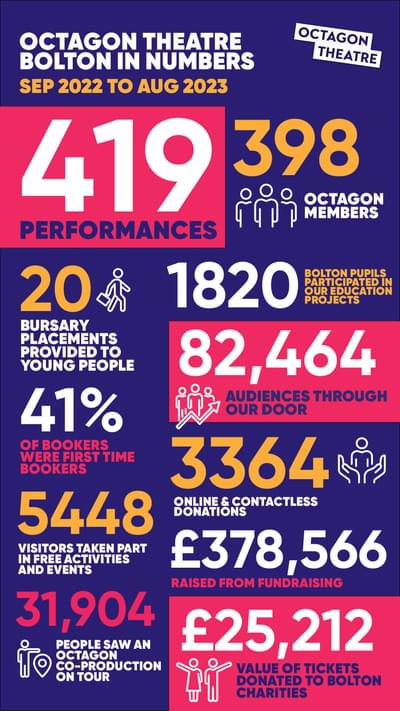 The analysis showed of the 82,464 audiences we welcomed through our doors, 41% of those were first time bookers to the Octagon. With an exciting and varied programme, we worked with other top producing-house theatres across the country which saw a further 31,904 people watch an Octagon co-production on tour in the UK.
As a registered charity our fundraising campaigns raised an impressive £378,566 from public donations, sponsorship, Octagon Membership and funding from trusts and foundations. This supports our engagement work with the local community – from young people and families, over 50s programme, artists and theatre-makers and more.
Over the last 12 months we have donated £25,212 worth of free tickets to local charities including Bolton at Home as well as to local NHS workers. Our education programmes increased the arts offering to young people who would not otherwise have had access to the arts, including: delivering drama and storytelling sessions to 1820 pupils at local Bolton schools, offered bursary placements for 20 young people to attend Octagon Youth Theatre; and provided free activities and events attended by 5,448 people including our free 3-day Family Festival and Sharing Stories project.
Octagon's Chief Executive, Roddy Gauld commented:"Reflecting on the figures it is remarkable to see what we have accomplished over the last 12 months. Since our record-breaking world premiere production of The Book Thief, this time last year, our ambition and determination has never let up. We've attracted thousands of new audiences and we're delighted to have had wonderful feedback and national recognition for our productions.
"We're proudly rooted in Bolton, and as well as making world-class theatre here, our creative engagement projects have worked with countless children, families and adults. We've supported the talents of young people, early career theatre-professionals, and refugees and asylum seekers, all in the belief that creativity is a catalyst for building lives and communities.
"All the successes from the last 12 months are down to the skill and effort of the many people we work with, so a huge thank you to our staff, freelancers, volunteers and collaborators. And as a registered charity, we are profoundly grateful to all our supporters, who have helped us to achieve so much."
See more News articles