Quality Street comes to the Octagon as part of UK tour
News
23 Feb 2023
News Story
Check out the full cast of the upcoming production of J.M. Barrie's regency comedy.
We are continuing our Spring/Summer 2023 season with a delicious farce from the writer of Peter Pan. Quality Street comes the Octagon from Tue 25 April – Sat 6 May as part of a UK tour.
The acclaimed original run in 2020 was cut short by the pandemic and has now been revived for 2023. The popularity of J.M. Barrie's romantic comedy was such a sensation in its day that it gave its name to the UK's most loved chocolates: Quality Street™.
In a co-production with New Vic Theatre, Northern Broadsides is reviving their delectable production of Quality Street, stirring in a good helping of Yorkshire wit in a new version for 2023. This sweet and sumptuous show was created with a team of retired workers from the Halifax factory where Quality Street™ chocolates have been proudly made since 1936, wrapping the action in their witty and outrageous observations.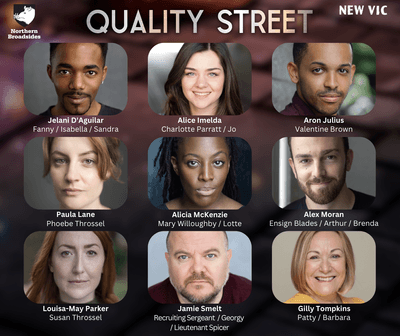 The lead, Phoebe Throssel, will be played by Paula Lane, who will be familiar to audiences for her 6 years in Coronation Street as Kylie Platt, as well as her work in Call The Midwife, Father Brown and Kinky Boots.
Two of the cast are returning from the original run: Alicia McKenzie (Small Island, National Theatre; Bleak Expectations, The Watermill Theatre) as Mary Willoughby / Lotte and Louisa-May Parker (Coronation Street, ITV; Sitcom Stories, Edinburgh Fringe) as Susan Throssel.
The cast also includes Jelani D'Aguilar (My Voice Was Heard But It Was Ignored, Red Ladder Theatre Company; Planet Caravan, People Zoo) as Fanny Willoughby / Isabella / Sandra, Alice Imelda (Stick Man, Freckle Productions; I Spie, The Telling) as Charlotte Parratt / Jo, Aron Julius (As You Like It, Northern Broadsides; A Christmas Carol and Love, Liverpool Everyman & Playhouse) will be Captain Valentine Brown and Alex Moran (War Horse, National Theatre; A Clockwork Orange, Volcano) as Ensign Blades / Arthur / Brenda.
Jamie Smelt (Macca & Beth, Royal Court Liverpool; Ackley Bridge, Channel 4) is Recruiting Sergeant / Georgy / Lieutenant Spicer and Gilly Tompkins (Murder, Margaret & Me, Tilted Wig Productions; Gangsta Granny, National Tour and Garrick, West End) completes the cast as Patty / Barbara.
Laurie Sansom, director of Quality Street and Artistic Director / CEO of Northern Broadsides comments: "It was heart-breaking to have to abandon this production in 2020 when it was being enjoyed by so many. We are thrilled to be working with our wonderful partners at New Vic Theatre to bring it back to stages up and down the country with a fantastically playful company. They capture the wit and wisdom of J.M. Barrie's delightfully comic creation, as well as the Halifax women who helped us make the original show. We can't wait to get it back on the road."
Theresa Heskins, Artistic Director of New Vic Theatre, comments:"It is a real treat to be working with Northern Broadsides on Quality Street. We were eagerly anticipating the show in 2020 when it was cut short due to Covid, so we couldn't be happier that we're now collaborating in our workshops and rehearsal rooms once again on this delightful romantic comedy. We can't wait to finally be able to share it with our audiences after almost three years of waiting."
Phoebe Throssel runs a school for unruly children on Quality Street. Ten years after a tearful goodbye, her old flame returns from fighting Napoleon. But the look of disappointment on Captain Valentine's face when he greets an older, less glamorous Phoebe spurs the determined heroine to action, becoming the wild and sparkling Miss Livvy, a younger alter-ego who soon beguiles the clueless Captain. As their romance is rekindled, and Miss Livvy melts the Captain's heart, Phoebe must juggle both personas while trying to avoid scandalizing the town with her deception, or wrecking her future with the man she loves.