Octagon announce recipient of 2023 Cameron Mackintosh Resident Musical Theatre Composer placement
News
15 Sept 2023
News Story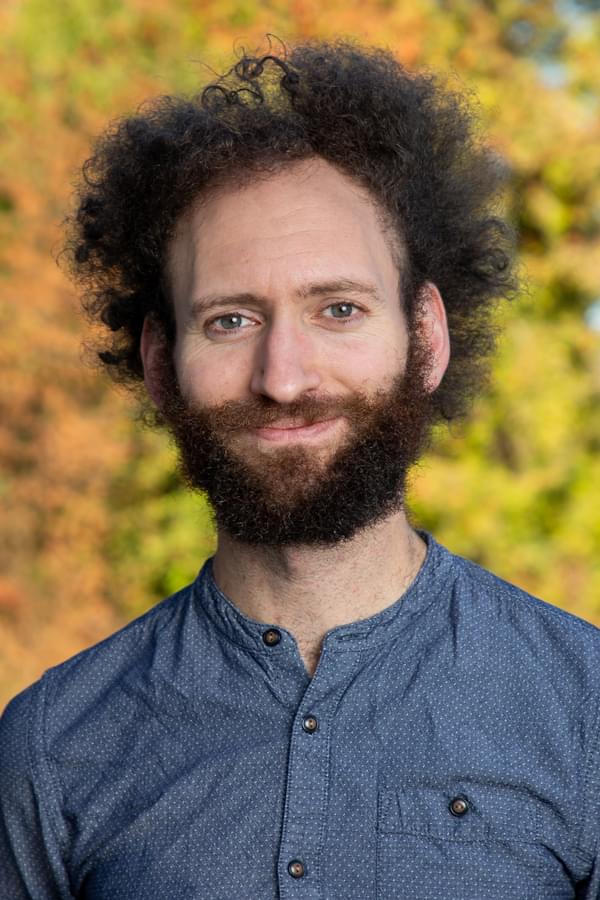 We are delighted to announce that Dylan Townley will be the next Cameron Mackintosh Resident Musical Theatre Composer on placement at the Octagon Theatre commencing in October 2023.
Mercury Musical Developments and Musical Theatre Network run the Cameron Mackintosh Resident Composer scheme, which is made possible by funding from The Mackintosh Foundation. Through the scheme, musical theatre composers are paired with a producing organisation for six months and given the opportunity to develop their own new work, shadow other composers, compose for new productions and gain inside knowledge into the workings of a producing theatre. The theatre benefits from embedding the art form into its activities, close collaboration with a composer and additional expertise in its team.
The scheme, which began in 2011, has now awarded 18 paid placements and is a key career development opportunity for composers of musical theatre. Recent placement hosts have included the Royal Shakespeare Company, Theatr Clywd, Dundee Rep, British Youth Music Theatre, Hope Mill Theatre and The Lowry.
The recipient of the opportunity, musical theatre writer Dylan Townley said:
"I am delighted to have been chosen as the Cameron Mackintosh Resident Composer. The chance to play an ongoing role in a busy producing theatre is a dream job for a composer, and a rare opportunity in our industry. The Octagon Theatre Bolton is a special place to develop new work, be inspired by brilliant colleagues, and contribute to the theatre's outstanding programme of shows and community life. Thank you to Mercury Musical Developments, Musical Theatre Network and the Mackintosh Foundation for their vital support of new writing and musical theatre."
Lotte Wakeham, Artistic Director at the Octagon said:
"We are delighted to welcome Dylan to the Octagon and to be working with him over the coming months. It is an exciting time at the Octagon as we move into our autumn/winter season, with lots of projects for Dylan to get involved with. He will be a fantastic addition to the Octagon team, and we are looking forward to getting his valuable creative input into our programme."
Natalia Scorer, Executive Director of MMD, said:
"We are delighted that Dylan will be the next Resident Composer and we believe he and the Octagon Theatre will be a great fit for each other. Dylan is hugely talented and we hope this will be a wonderful development opportunity for him - and we know he will bring so much to the Octagon as well. Opportunities like this for composers are rare and valuable, so we'd like to thank The Mackintosh Foundation for their continued support of this scheme."
James Hadley, Executive Director of MTN, said:
"The Octagon Theatre is a brilliant host venue for this placement, given its Artistic Director Lotte Wakeham's interest in new musicals, most recently having directed the premiere of The Book Thief. That production's box office success showed the local appetite for new musical theatre, so we expect the Octagon, its audiences and wider community will all benefit in exciting ways from Dylan's residency in Bolton."
Dylan Townley is a composer and lyricist, music director and pianist. Credits include the multi-award-winning How To Win Against History (Young Vic, UK Tour) and Milky Peaks (Theatr Clwyd, Wales Tour), both by Seiriol Davies and company; Austentatious (West End, UK Tour); Secret Cinema Present Marvel Studios' Guardians of the Galaxy (Secret Cinema London); Wacky Racists Comedy Club with Sophie Duker (Soho Theatre); The True Adventures of Marian and Robin Hood (The Barn Cirencester); The Twelve Choirs of Christmas (Old Vic); The Greatest Wealth (Old Vic); Aaaand Now For Something Completely Improvised (BBC6 Music, Perth & Adelaide Fringe Festivals); A Midsummer Night's Dream (YAC Cambridge); collaborations with Dancing Brick (Unicorn Theatre, MAC Birmingham); Peablossom Cabaret (UK Tour); Fanny and Stella (Hackney Showroom, Camden People's Theatre); Music Leader with Bath Philharmonia; and Head Writer for BAFTA-winning online channel History Bombs. Upcoming work includes Miss Wales (working title), a new musical about the complex life of beauty queen Rosemarie Frankland, commissioned by Theatr Clwyd and co-created with Francesca Goodridge, Daniel Lloyd and Emma Reeves.