Cast announced for Jeeves and Wooster in Perfect Nonsense
News
5 Jul 2023
News Story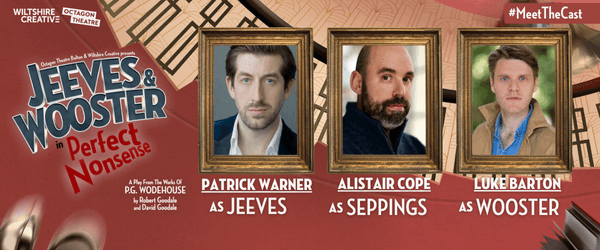 We are thrilled to announce the full cast and creative team for Jeeves and Wooster in Perfect Nonsense- our co-production with Wiltshire Creative
Marieke Audsley directs Luke Barton (Bertie Wooster), Patrick Warner (Jeeves) and Alistair Cope (Seppings). The production will feature design by Olivia du Monceau with lighting design by Jane Lalljee and sound design by Matt Eaton.
Robert and David Goodale's adaptation of P.G. Wodehouse'sJeeves and Wooster, premièred at Duke of York's Theatre in 2013 and won the 2014 Olivier Award for Best New Comedy. This new production opens Wiltshire Creative's autumn season on Tuesday 5 September and runs until Saturday 23 September, with previews from Friday 1 September, before completing performances at the Octagon from Wednesday 4 – Saturday 21 October.
This production will be part of our autumn/winter season which also includes a visceral and compelling contemporary co-production of Arthur Miller's masterpiece, A View From the Bridge (8 – 30 September 2023); a world premiere musical adaptation of Jules Verne's classic adventure tale, Around the World in 80 Days (16 November 2023 – 13 January 2024); and a powerful re-telling of George Orwell's chilling and timeless classic, in a co-production of Animal Farm (1 – 24 February 2024).
Director Marieke Audsley said today, "I'm thrilled to be working with Wiltshire Creative and the Octagon on this hilarious adaptation of P.G. Wodehouse's much loved classic novel, The Code of the Woosters. We have a really exciting cast to bring Bertie, Jeeves, their friends (and foes!) to life, and a wonderful creative team to create the fabulous world of Berkeley Mansions and Totleigh Towers. Both dedicated Wodehouse fans and anyone new to Jeeves and Wooster can look forward to a fantastically farcical and fun evening out!"
Jeeves and Wooster in Perfect Nonsense comes to the Octagon from Wed 4 – Sat 21 October.
Book now - tickets from £15