We take storytelling on tour this summer!
News
30 Jun 2023
News Story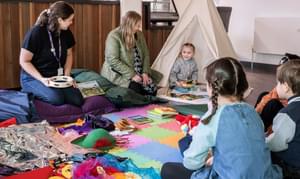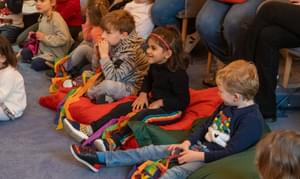 Free family storytelling and craft sessions coming to libraries across Bolton
We are planning an exciting summer of free storytelling sessions as we embark on a tour of Bolton Libraries.
This is the latest event forming part of our 3-year Sharing Stories community project funded by The Oglesby Charitable Trust, which works with families across Bolton to co-design storytelling, creative and literacy-based activities for young people.
Visiting 6 libraries during the summer holidays, families can enjoy a live story reading of popular children's books, followed by an exciting creative session, with activities varying from dance, puppetry, arts and crafts. Activities will be suitable for the whole family to enjoy, from babies and toddlers to children up to 11 years old.
Libraries on the tour include: Central Library (Sat 22 July); Farnworth Library (Fri 28 July); Breightmet Library (Tue 1 August); Horwich Library (Fri 11 August); High Street Library (Thu 17 August); Westhoughton Library (Mon 21 August).
Each venue will have 2 sessions available: 10:30am and 1pm. (Except Central Library which will have arts workshops between 11am-12pm and 1pm-3pm, with storytelling available at 11:30am, 12:30pm, 1:30pm and 2:30pm).
To tie into the Octagon's festive show, which this year is a brand-new musical adaptation of the classic adventure book Around the World in 80 Days, the theme of all the storytelling sessions will be 'Around the World', with stories and activities taking inspiration from this theme.
Each venue will include a different story and a new activity, so families are welcome to attend more than one event. All the sessions are free to attend, and no booking is required.
Taylor Barnes, Family Engagement Lead at the Octagon said: "We're thrilled by the response from families since launching Sharing Stories at the beginning of the year. We've been hearing from families about what they'd like to see from the Octagon and summer holiday activity across Bolton was at the top of the list! With fabulous support from our partners, Bolton Libraries and Museums, we can't wait to bring exciting storytelling opportunities to a range of local libraries this summer."
These storytelling sessions will form part of the our summer family programme, which also includes the return of their third annual freeFamily Festival which takes place during the August Bank Holiday weekend – providing 3 fun-filled days of indoor and outdoor family activities. More details of this year's festival will be announced in the coming weeks.