Personal stories of immigration explored in new Women's Group project
News
21 Sept 2023
News Story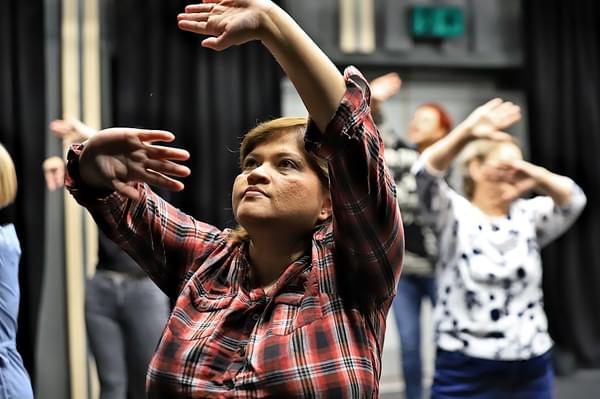 We have partnered with innovative and renowned theatre company Headlong on our latest co-production of Arthur Miller's A View from the Bridge.
The partnership will also see Headlong and our Creative Engagement department develop a short original performance with our Women's Group – a participation group for asylum seekers and refugees, which meets weekly at the Octagon.
Over four weeks of workshops, the participants will create a movement piece exploring how their own personal experiences reflect the themes explored in Miller's play.
A compelling drama centering around a Sicilian family in 1950s Brooklyn that questions issues of personal identity, belonging andthe human price of a country's immigration policies; these themes will be used as a catalyst for the participants to share their own personal experiences.
The final piece will then be shared before the matinee performance of A View from the Bridge on Thu 28 September.
Community Theatre Director at the Octagon, Lucie Jowett commented: "We are delighted to be working with Headlong on this new project with our Women's Group participants. The themes explored in the play are incredibly relevant to our group members and all have real insight and lived experience of what the characters in the play go through, so I am really excited to see what they create over the next four weeks."
Associate and Project Manager at Headlong, Iskandar Sharazuddin added: "I am thrilled to be partnering with the Octagon Theatre and their facilitators to work with the Women's Group developing a moved response to the themes of 'A View from the Bridge'. I'm humbled to be working with women from such rich cultural spaces bringing their personal journeys to this process as we create a new piece of work together and discover the points that this play resonates, provokes, and excites us as creatives."
A View from the Bridge is a co-production with Octagon Theatre Bolton, Headlong, Chichester Festival Theatre and Rose Theatre and opens at the Octagon from Fri 8 – Sat 30 September.
A View from the Bridge is presented by arrangement with Josef Weinberger Limited.