Octagon's own unsung hero wins award at The Stage Awards
News
31 Jan 2023
News Story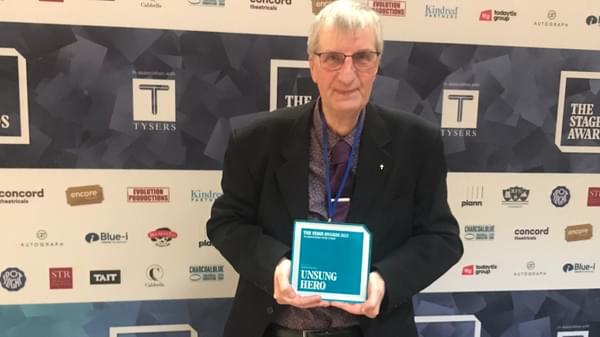 Octagon employee Jim Whaite picked up a prestigious Unsung Hero Award at this year's The Stage Awards.

The Unsung Hero Award recognises individuals or teams who have gone above and beyond the call of duty in their work in the performing arts industry.
Jim was thrilled to receive the award at the ceremony at Theatre Royal Drury Lane, London earlier this week where the Octagon were also shortlisted for Theatre of the Year.
Jim, who celebrates his 50th year at the Octagon later this year, is the longest standing member of the current Octagon staff.
During his time at the Octagon Jim has had various roles from Front of House positions including Bar Assistant, Bar Supervisor and Usher and Welcome Assistant, to assisting backstage, to becoming a qualified chaperone.
On picking up the award, Jim said: "I had absolutely no idea – what a shock, in the best possible way. Working at the Octagon and to be a part of such a remarkable team is reward itself, they are like family, so to receive this award is just absolutely wonderful and I could not be happier. This award is for all the brilliant and hard-working front of house staff."
The Octagon's Chief Executive Roddy Gauld and Artistic Director Lotte Wakeham commented:"Everyone at the Octagon is so proud of Jim and his award. Jim is always willing to go the extra mile in supporting others and the theatre. He is the first person to be there when a job needs doing and the last person to expect recognition. Whether he's working in the bar or backstage, he brings sincere care and encouragement to everyone he meets. For nearly fifty years he has made generations of actors, staff, volunteers and customers feel welcome and valued.
"It's clear that the Octagon means a great deal to Jim and his wife, Anne, and we are so delighted that he has rightly been recognised as one of the theatre industry's Unsung Heroes."