Octagon Scoops Leading Arts & Culture Venue Award
News
15 Nov 2023
News Story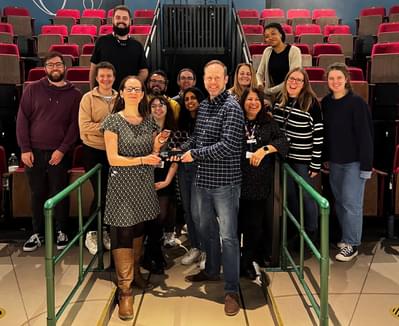 We were winners at this year's This Is MCR Awards, as the recipient of the Leading Arts & Culture Venue Award.
The annual awards ceremony, which took place on 9 November, champions and recognises individuals and organisations rooted in Greater Manchester within the fashion, entertainment, sports, hospitality and food and drink industries, as well as individuals and organisations who have contributed to the community within Manchester and beyond.
For this particular award the judges were looking for unique cultural experiences, strong community impact, clear social responsibility and the inclusion of young people. The award was open to every arts and culture venue in Greater Manchester.
Octagon Chief Executive, Roddy Gauld commented:"Our region has an incredible cultural sector, so to receive this award is an absolute honour. The Octagon is proud to be a champion for Bolton, Greater Manchester and the North West. We showcase the very best of what the region has to offer, both on and off our stages – from our world-class, award-winning productions, to our exceptional engagement programme in the community, to working with and providing opportunities for the wealth of incredibly talented artists and freelancers right here on our doorstep."
This is the latest accolade in an impressive few years us, since reopening in 2021 following our redevelopment.
Earlier this year we were shortlisted for the prestigious Theatre of the Year Award at The Stage Awards, our renowned world-premiere production of The Book Thief was nominated for Best Musical at this year's UK Theatre Awards, and we were the recipient of the Best Customer Service Award at the 2022 Bolton Business Awards.
Our Artistic Director, Lotte Wakeham, also received the Culture Champion Award at the 2022 She Inspires Awards, Octagon employee James Whaite was honoured with an Unsung Hero Award at this years The Stage Awards, designer TK Hay won Best Designer at 2022 Stage Debut Awards for his work on our production, An Adventure and Nisla Smith received the Best Supporting Performance in a Musical or Play Award at 2022 UK Theatre Awards for her performance in our compelling production of Kes.
BACK TO MAIN NEWS PAGE