Around the World in 80 Days cast take trip to Bury Transport Museum
News
23 Oct 2023
News Story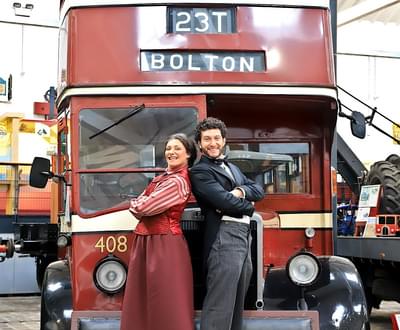 The Christmas season has officially arrived in Bolton as we start rehearsals for our festive production – a brand-new musical adaptation of the adventure classic, Around the World in 80 Days.
It's just three weeks until the show opens and will be entertaining audiences right across the festive period, from Thursday 16 November 2022 – Saturday 6 January 2023.
Some of the cast took time out of rehearsals to visit Bury's Transport Museum, getting in the driver's seat of some of the vehicles and modes of transport their characters will travel on around the globe.
Polly Lister (One Man, Two Guvnors and Hound of the Baskervilles, Octagon Theatre Bolton) who leads the cast as eccentric explorer Lady Philleas Fogg and Kai Spellman (Billie The Kid, Kyriacos & Company and Dominion Theatre, Ali and Dahlia, Pleasance Theatre) who plays Passepartout, visited the local attraction this week and had plenty of fun.

Polly Lister said:"I am super excited to be back here working at the Octagon, the team here are great. I think the audience will love this show and I'm excited to see how they embrace the story. We had such fun in Bury at the Transport Museum and getting the VIP access to all the modes of transport was thrilling."
Kai Spellman added: "Seeing all the old vehicles really helped imagine and step into the world we are creating. I've always heard great stories about the Octagon so working here for the first time is a dream come true and I can't wait to share our 80 days story as part of this festive season."
This world premiere musical adaptation of Jules Verne's story has been adapted for the stage by Kate Ferguson and Susannah Pearse, the writers who penned our 2022 festive production A Christmas Carol and 2019's Treasure Island, comes this sensational new musical stage production, directed by Kash Arshad (An Adventure, Octagon Theatre).
Joining Polly and Kai, the full cast includes: Emma Fenney (A Christmas Carol, Antic Disposition, A Midsummer Night's Dream Live Online Production, Octagon Theatre Bolton and Guildford Shakespeare Company) as Lady Eliza Sullivan; Robert Jackson (Peter Pan, Octagon Theatre Bolton, Brief Encounter, Octagon Theatre Bolton, Stephen Joseph Theatre and Theatre by the Lake) as Sir John Sullivan; Darren Kuppan (Let the Right One In, Royal Exchange Theatre, The Jungle Book, Grosvenor Open Air Theatre and Chester Storyhouse) as Khatri; and Charlotte Linighan (The Booth Show and Spinach, The Edge Theatre) as Felicity Fanshaw. Completing the cast is Olivia Chandler who will be the company swing, marking her professional debut.
The creative team includes: Katie Scott (designer); Sam Sommerfeld (musical director); Jennifer Kay (movement director); Jane Lalljee (lighting designer); Mark Melville (sound designer); Rebecca Applin (additional orchestrations and arrangements).
Wealthy and eccentric entrepreneur Lady Phileas Fogg makes a bet that she can travel around the world in just 80 days...but surely it can't be done? With her entire fortune on the line, Phileas sets off from London in a wild dash across the globe.
Travelling through fascinating and exotic lands, Phileas and friends get into all sorts of adventures. They jump from boats to trains, trek across Europe to Asia, celebrate Diwali in India and soar through the Americas battling storms and bandits. Will they make it back to London in time for Christmas or will the bet be lost?
Around the World in 80 Days comes to the Octagon from Thu 16 November 2023 – Sat 6 January 2024. Tickets are on sale now.
Book tickets - from £15