Join us for our Costume Sale
News
27 Jun 2023
News Story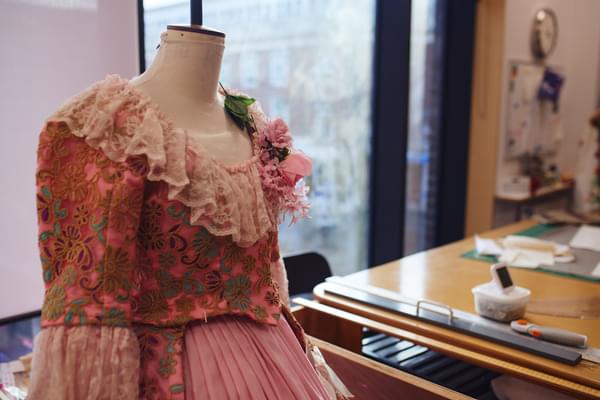 Thousands of items will be going up for sale as our wardrobe department hold a costume sale on Sat 22 July.
We will be opening our doors to the public from 10am – 4pm for the first event of its kind in our 56-year history.
As a producing-house theatre, we make and source all our own costumes for our in-house productions, with over 16,000 garments of clothing in our costume store. The sale will include clothes, shoes, hats, and lots more including everyday clothing items, vintage pieces, costume items and fancy-dress articles.
Included in the sale will be a number of notable pieces from some of our biggest productions including Don Lockwood's suit and Lina Lamont's pink dress from the 2016 production of Singin' in the Rain, period costumes from Jane Eyre, and costume pieces from The BFG.

Wardrobe Manager at the Octagon, Su Newell commented:"We have been building our costume collection for over 50 years so our store is literally bursting at the seams, we are delighted to be able to offer the items a second life by putting them on public sale. The sale will include a variety of men's and women's clothing, shoes and accessories with many items starting from just £1. Lots of the items will have been hand made by our wardrobe department so will be a chance to get a piece of Octagon history. We will also be selling make-your-own bunting and patchwork kits, made up of left over fabric scraps which will make wonderful craft projects."
The Octagon Kitchen & Bar will also be open on the day for visitors to purchase food and drink.
The Octagon costume sale will take place at the Octagon Theatre on Saturday 22 July from 10am – 4pm.
important info for on the day
Entry

The costume sale will be taking place in our Studio and we are anticipating it being a busy and popular event.

During busy periods we will be limiting the number of visitors entering the Studio to allow people to browse.

When the Studio is at capacity we will provide new visitors with a numbered ticket and one of our volunteers will call you when you can enter the Studio.

Whilst you are waiting our Kitchen & Bar will be open to enjoy refreshments and we also have a reading corner with a wide selection of books to enjoy.
Food and Drink

Our Kitchen & Bar will be open from 10am - 4pm on Saturday, with a delicious selection of brunch and lunch items available, tasty sweet treats, tea, coffee and cold drinks.
Ways to pay

We will be accepting cash and card payments in our costume sale.

Please note, that our Kitchen & Bar is a cashless venue and only accepts card payments if purchasing food and drinks.
Bring Your Own Bag

We kindly ask that visitors bring their own carrier bags for their purchases on the day to reduce the use of plastic bags.