Young people and families take centre stage this summer
News
11 Sept 2023
News Story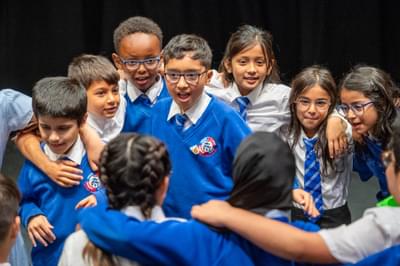 We have had a jam-packed summer programme which has put family engagement at the heart of our work.
Over 5000 young people and families from across Bolton took part in fun and creative activities, from our Sharing Stories projects in libraries, an 80s themed summer school and the ever-popular annual Family Festival.
At the Octagon we have been committed to growing our family programme over recent years, providing opportunities for all young people to have access to the arts and offering co-design opportunities with local parents and carers.
This summer we took storytelling on tour with our Sharing Stories Library Tour – partnering with Bolton Libraries and Museums, where we visited libraries across Bolton providing free storytelling and craft sessions as part of our Sharing Stories community project which is funded by The Oglesby Charitable Trust.
Proving incredibly popular, more than 500 people attended the sessions, enjoying live readings of popular children's stories as well as taking part in a range of activities from dance, puppetry, story writing, arts and crafts.

A local parent who attended said:"My family first saw the Octagon storytelling in Central Library, we loved the storytelling so much that we started to follow the Library Tour. Our next visit was Breightmet Library, and our children had so much fun listening to the storyteller and making their own storybooks. It's great the Octagon have activities on for families over summer."
Also part of the Sharing Stories project, we partnered with Bolton Wanderers in the Community to deliver a literacy and drama project with year 4 and 5 pupils at Pikes Lane Primary School, culminating in 120 pupils performing on the main stage in our fantastic auditorium.

Learning Mentor at Pikes Lane Primary School, Carol Lowe said: "Most of our students have never done anything like this before and we have already had incredible feedback from children who have asked for an after-school drama club.
"Confidence in the children is sky high at the minute and behaviour is much improved and I think it's all been because they have been so looking forward to this, they want to do well."
Family Engagement Lead at the Octagon, Taylor Barnes commented:"The importance of this project was to encourage reading and literacy through a creative outlet and we worked with the young people to develop their drama skills, communication skills, storytelling and creativity. We were thrilled to be able to offer opportunities like this both with partner schools, and in the school holidays when it's so important for children to continue their reading and storytelling journey."
Ending the summer on a sensational high, was our third annual Family Festival – supported with funding from Arts Council England and Bolton Council.
Over the course of the 3-day free event, this year saw over 4,500 people visit and enjoy the festivities on offer. Activities included storytelling, live performances, family disco, art and crafts inside the Octagon as well as a wide selection of outdoor activities across the town including performances from children's theatre companies The Fabularium, The Big Tiny, eBublio and Circus Sensible.

Family Festival attenders' comments of the experience:
"The whole experience was well organised and very inclusive, a totally enjoyable experience for the whole family. Thank you"
"The Family Festival is a fantastic event, so many activities to pack into a two-hour time slot. Brilliant event and looking forward to next year."
"I attended with my grandchildren, and they had a fabulous time. There was something going on for them the whole time. All the staff were very good, professional, and very helpful – it was a very enjoyable event. Thank you to all concerned."
"We came as a family and spent a good couple of hours with lots of activities to enjoy and the children were looking for Hansel and Gretel book in Waterstones prior to returning home."
"Engaged the children so well."
Head of Creative Engagement at the Octagon, Imogen Woolrich said of the summer programme:"We have thoroughly enjoyed welcoming so many young people and their families to the Octagon this summer. Theatre and the arts offer important skills for young people, helping to inspire creativity, imagination and provide crucial skills for learning and development and we believe that all young people should have an opportunity to take part.
"It has been wonderful for the theatre to engage with so many local Bolton families both at the Octagon and across the work in the community, and I hope everyone who has taken part in any of the activities, have had as much fun taking part as we have had delivering it."
"Thanks to all of the creative partners we have worked with across the summer from artists, theatre and story makers, project partners, volunteers, and a massive thank you to the funders of these projects, without their support none of these activities would not have been possible."
"We will now look forward to reflecting on all of the activities from the past few months as we look ahead to developing even more work for and with young people and families over the coming months and year ahead."
Click here to find out more about our programme for young people and how to GET INVOLVED.