Programming
Main Stage
Our flexible main stage can be set up in the following configurations: end-on, traverse, thrust or in-the-round. When operating at full capacity, the theatre can seat between 320-390 people.
Download groundplans:

---
Studio
When operating at full capacity, our new studio space can seat up to 100 people. If you've got a studio sized show which you think could visit us for 1-2 nights we'd love to hear from you and start a conversation.
Download ground plan: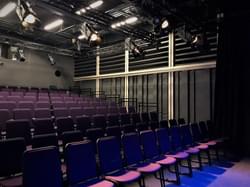 ---
In any programming enquiry, please make sure you include:
Your name/company and contact details
Succinct and clear information about the show/event
Your target audience and audience development plan if you have one
Tour pack (if you have one)
Video footage, production shots or any other materials that can give us a good sense of your work (if you have this content)
We have set criteria/objectives that we assess all submissions against, which are Audience Development and Sales; Creative Case for Diversity; Artistic Quality; Locality. A successful submission will satisfy at least one of these criteria.
Please note we tend to programme our main space 6-18 months in advance, and our studio 3-12 months in advance.
Please submit all enquiries to programming@octagonbolton.co.uk
Alternatively, if you would prefer to hire a space email hires@octagonbolton.co.uk