About Shark In The Park
Timothy Pope is looking through his telescope – but wait, is that a Shark, in the Park!?
From the creative team behind 'The Hairy Maclary show' and 'You Choose' - see all 3 of Nick Sharratt's 'Shark in the Park' books live on Stage!
Featuring all 3 of the 'Shark in the Park' Series – Shark in the Park, Shark in the Dark and Shark in the Park on a Windy Day – this fin-tastic, family musical follows Timothy Pope (and his telescope!) on 3 exciting adventures!
a triumphant makeover for the stage

- The Stage
Another foot tapping musical delight of show

- Edinburgh Festival For Kids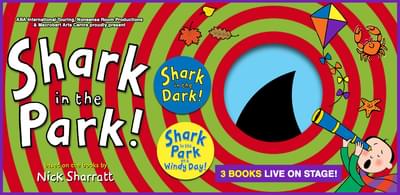 Related items
Around the World in 80 Days

–

Story Makers: Tales by the light of the Moon

–